New Hope Youth Ranch is more than a simple place to offer support
to those in the community that need a little extra.
They are committed to fill the needs within our community between Weld and Larimer Counties for children of parents with mental health illnesses, children who have mental health issues or have been victims of domestic violence, pregnant teens, or children whose guardians need intervention and respite care, or whose guardians have relinquished custody.
They will be a full time Respite facility for severely mentally ill and medically fragile 0-99. Clients will be those who do not belong in foster care nor Platt and need extra intervention and direction.
New Hope Youth Ranch will be privately funded as a non-profit to avoid the current Medicaid service dilemmas within our system.
New Hope will offer the following services as part of their umbrella:
 School: will have a year-round individual paced academic school using the School of Tomorrow curriculum
 Therapy: provided several forms of therapy including equine and animal therapy and a sensory facility
 Sustainability: garden and livestock
 Vocational Ed. Program: working with CSU and UNC programs, financial freedom, job programs and local bank escrow acct., automotive program
 Childcare: onsite daycare for success of staff and young teen mothers to overcome childcare issues for
employment staffed for special needs children as well.
 Play ground: built by a local service club
 Volunteer Fairway and Donations: Old west themed fairway housing donations and programmed themed in 500+ SQ ft: ie music room, library, craft center, painting, woodworking – to incorporate skilled volunteers working with clients
 Respite Care Facility: for medically challenged and fragile, short term guardian reprieve, and special needs 0-99. Short and long-term sections with sensory rooms
 Teen Pregnancy home and program: housemother overseeing the home with teens attending school, therapy
and voc. Ed program to move towards independent living.
 Ranch homes: 3000 sq ft homes with house parents for 8-10 children. 5 homes in Phase 1 and 5 in Phase 2.
 Mental Health services: working with local agencies.
 Studio apt community: for partial independent living adults with special needs overseen by case manager
working towards independence and reemploying them in community or ranch according to giftings
 Onsite nurses
 Emergency intake and offices
They are currently seeking funding to achieve this goal and are hosting a Gala in order to help bring awareness to this cause.
The event is for adults and is going to be held at The Rialto Tuesday October 22nd from 6:30 to 7:30pm. The cost to attend is $50 per person. Come dressed as the super hero you are.
Get your tickets online here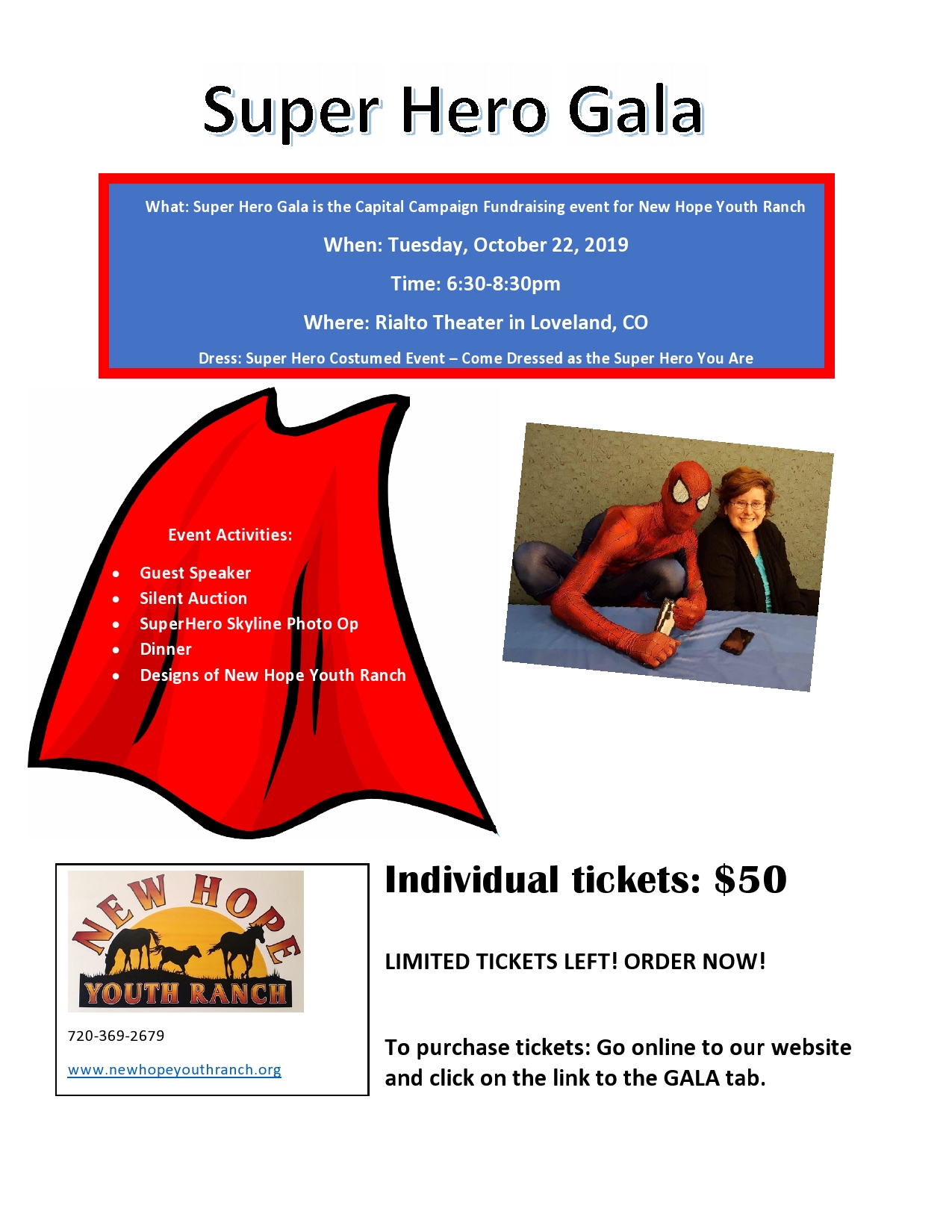 New Hope Youth Ranch is a Christian Non-profit serving our community in love.
To find out more contact:
New Hope Youth Ranch
Executive Director: Marisol Jackson
www.newhopeyouthranch.org
newhopeyouthranch2017@gmail.com
720-369-2679