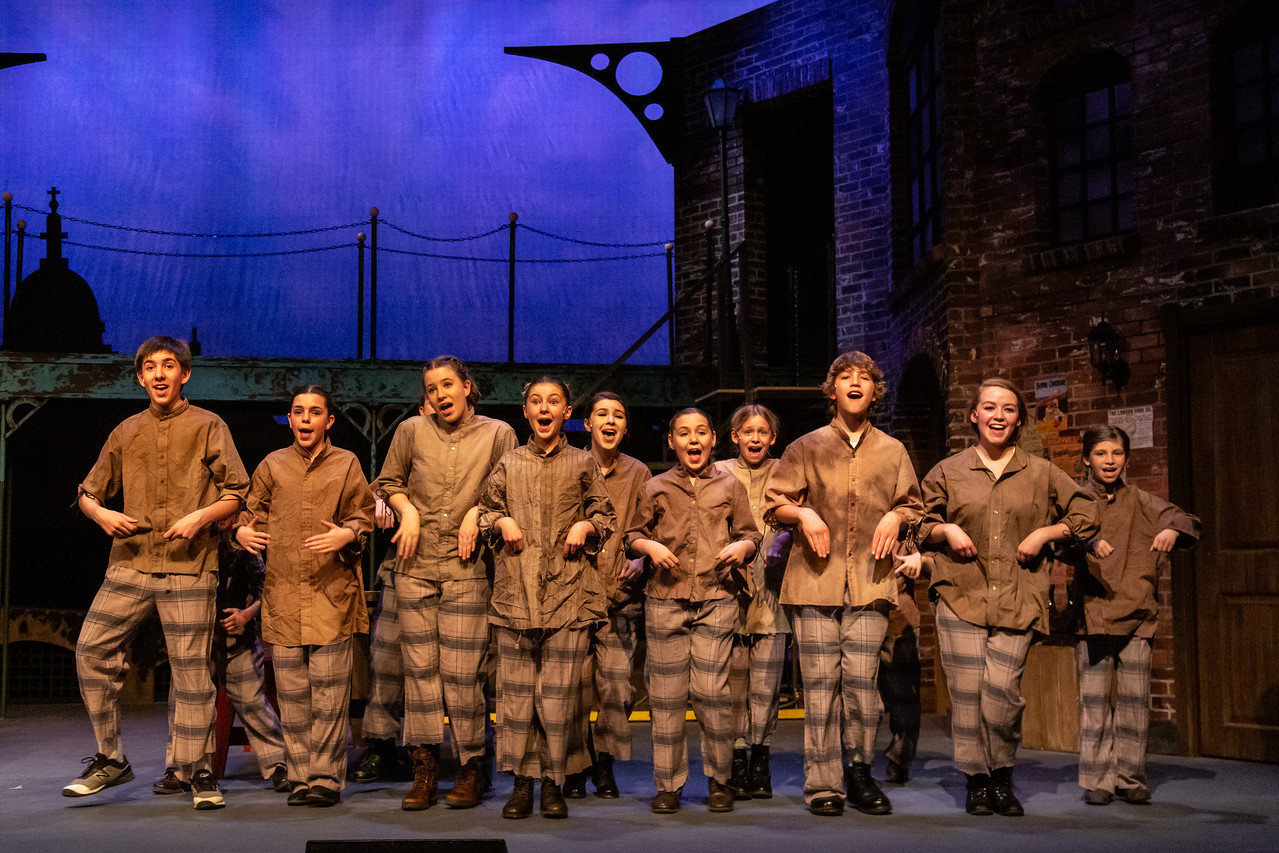 We had the pleasure of getting to discuss "Oliver" and other things with Axel, who plays the Artful Dodger, and Eli, who plays Oliver.
What do the actors think of their roles in Oliver?
What is their favorite part of the show?
Let's find out.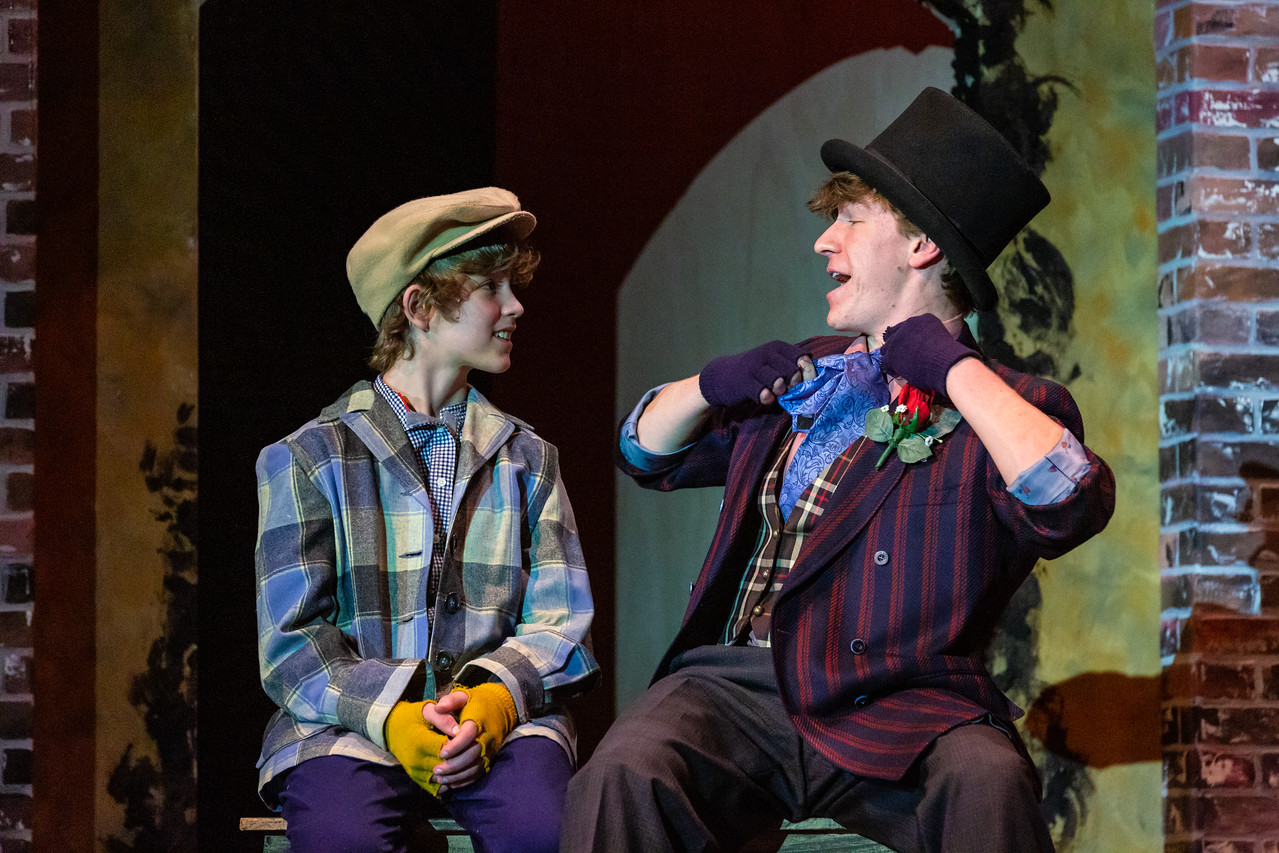 MK: Oliver is a timeless musical, what do you think makes it so easy for kids to identify with the characters?
Eli - All of the struggles the characters have are understandable and the characters are realistic. Almost every character in the show somehow resembles a person most kids have in their lives.
Axel - I think particularly Oliver is such a relatable character, showing an honest childlike innocence. Every kid not only relates to that, but strides for it. Even where I am now there's something in that I don't want to let go of. Oliver somehow is both relatable and a role model through one quality - that's part of why this is such a timeless show.
MK: Which scene/musical number is your favorite? Why?
Eli - Who Will Buy (part one) is my favorite part of the whole show. I am a huge fan of the music to begin with and all four of the sellers in that part have such gorgeous voices.
Axel - My favorite moment in the show is the Fine Life Reprise, simply due to it being such a hulking moment in the show. We worked so much on achieving such a precise build up to this one moment, and it really pays off
MK:What message do you want kids to come away with after seeing "Oliver"?
Eli - Contrary to popular belief, not everything is horrible. Even though this show is based on a pretty rough story, it ends with a message of hope. Oliver goes through a lot but he still has more joy and innocence than anyone else in the show and that's what I think everyone (but especially kids) should aspire to be like. He doesn't let bad people or bad things that happen to him take away his joy and light.
Axel - I want kids to come away from Oliver intent on staying away from corruption. While Oliver may be a drastic example of possible corruption in the past, there's plenty of examples in the real world around us; even just in how people act towards each other. Kids need to see that it's possible to stay away from those "shoulder devilish" thoughts through Oliver as a character.
MK: How do you feel playing the lead roles in one the greatest British films of the 20th century?
Eli - I am so grateful to have the opportunity to be in such a great production.
Axel - Well all I can say is the experience is unforgettable! It's so different to play a role people recognize almost as an icon, as opposed to any character in a show. It can be intimidating but it's more cool than anything else.
MK:What does it mean to you to work at Candlelight? (& How many shows have you done?)
Eli - I am really blessed to be in a show at this theater. Everyone is so talented and amazing in the cast and crew. Our director, choreographer, music director, stage manager, etc. are all so amazing and I am really privileged to work with them.
Axel - Candlelight is a new step for me, and it means more than I can say. This is my first show at the theatre, and despite it being one of the countless shows I've done, the environment at Candlelight is something really special. Everyone cares - really cares - and it's kinda amazing.
MK:Are you planning a career in acting/performing? & Where would you like to go from here (production manager, actor, director)?
Eli - I would love to continue acting but I have absolutely no idea if I will pursue it as a career. I don't know enough about it yet and also I'm only thirteen. I've got lots of time before I glue myself to a career choice.
Axel - Well I'm taking next steps right now, I'm in the college audition process to continue as an actor. Whatever that means!
MK: What do you do outside of acting? (hobbies, sports etc)
Eli - I play guitar and drums and I really enjoy all things dance.
Axel - Outside of acting and music, and all things musical theater I'm a pretty social person, so I'm often out and about with friends. I have a few hobbies, but they're constantly changing for the sake of keeping busy.
MK:What are your ages and when did you start acting?
Eli - I am 13 and I started acting when I was 10.
Axel - I'm 18, and I've been acting since my family would write short skits for my sister and I prior to anything I can remember. It's just always been a part of my life.
Have you seen Oliver before? If so, you won't be disappointed with this show! If not, here is a description of the exciting, journey of Oliver and The Artful Dodger.
The streets of Victorian England come to life as Oliver, a malnourished orphan in a workhouse, becomes the neglected apprentice of an undertaker. Oliver escapes to London and finds acceptance amongst a group of petty thieves and pickpockets led by the elderly Fagin. When Oliver is captured for a theft that he did not commit, the benevolent victim, Mr. Brownlow takes him in. Fearing the safety of his hideout, Fagin employs the sinister Bill Sikes and the sympathetic Nancy to kidnap him back, threatening Oliver's chances of discovering the true love of a family.

Oliver! is one of the few musicals to win an Academy Award for Best Picture and is widely hailed as a true theatrical masterpiece.
Macaroni Kid Review
Let me just start of with This was wonderful! My daughter and I went as a "girls day out" event. When we got there we spent some time deciding what we wanted to eat. There were some great choices so it was tough. She chose the Chicken Fingers and fries with soup (steak & potato), I got the Stuffed Portobello Mushroom and salad. Then we chose dessert, a decadent Hot Fudge Sundae Cheesecake and a scoop of Chocolate ice cream, to be served at intermission. The meal was delicious! I highly recommend the Portobello Mushoom!
Then the show began! I'll be honest. If your kids are really young and are not ready for scenes of death then this might not be the show for them. That being said, If you've ever seen Oliver, whether it be a movie or play this production is AMAZING. I don't want to give too much away but I can tell you I would love to see this again, and so would my daughter Kaity. She has been to a few shows at Candlelight Dinner Playhouse and some she is captivated others she isn't as interested. (spoiler alert) This show she watched intently and was shocked when Nancy died. She was also excited that Oliver found his true home at the end and that justice was served. (end of spoiler) She doesn't always care if someone is in the way of her view of the stage, but for Oliver she was a bit unhappy there were a few things in her way. Kaity was thrilled to talk to the waitstaff who happen to be the actors in the show. She took a great selfie with Nancy too at the reception line after the show.
This is one of the best performances of Oliver I've seen, and for it to captivate my 8 year old it represents how great the show is.
March 14 - May 26, 2019
Thursday, Friday, & Saturday Evenings: Dinner Seating at 6:00 PM, Show at 7:30 PM
Saturday Matinee: Dinner Seating at 12 noon, Show at 1:30 PM
Sunday Matinee: Dinner Seating at 12:30 PM, Show at 2:00 PM
Adult Dinner & Show Tickets: $52.95 - $64.95 (based on day of the week)
Child (5-12) Dinner & Show Tickets: $29.95 (any performance)
Student (13-18) Dinner & Show Tickets: $39.95 (any performance)
Adult Show-Only Tickets: $33.95 (any performance, seating restrictions)
WHERE
Candlelight Dinner Playhouse
4747 Marketplace Drive, Johnstown, CO 80534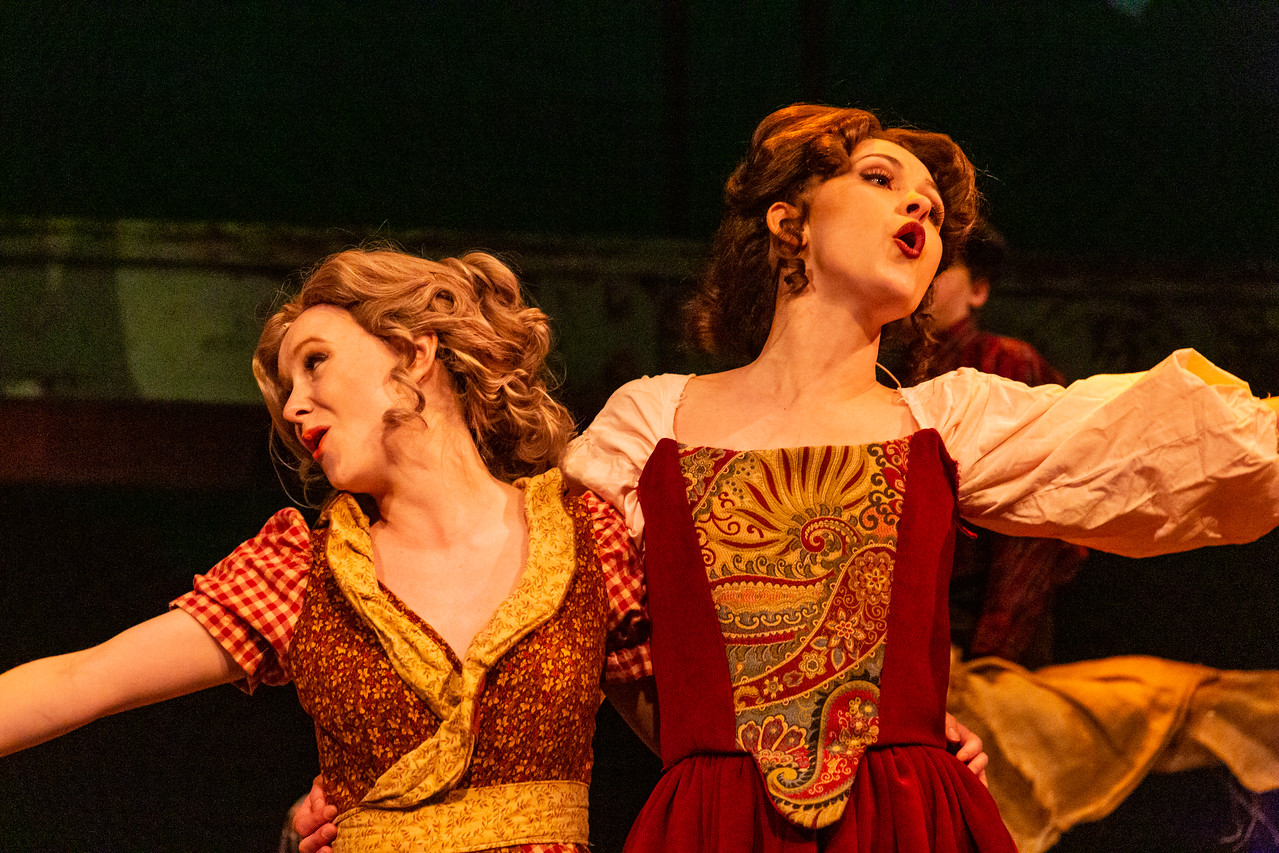 ABOUT CANDLELIGHT
Candlelight is a full service professional dinner theater and event space focused on staging high-caliber Broadway style musical theater. We draw our talent from the strong regional artistic community and contribute to it through educational programs. Our team delights in serving great food prepared right in our kitchen. The shows we produce are carefully selected to appeal across generations so that your whole family can join ours. You're always welcome to gather at Candlelight for a great story.
For more information or to purchase tickets online visit ColoradoCandlelight.com or
call the Box Office at 970-744-3747 http://www.coloradocandlelight.com/shows/oliver/