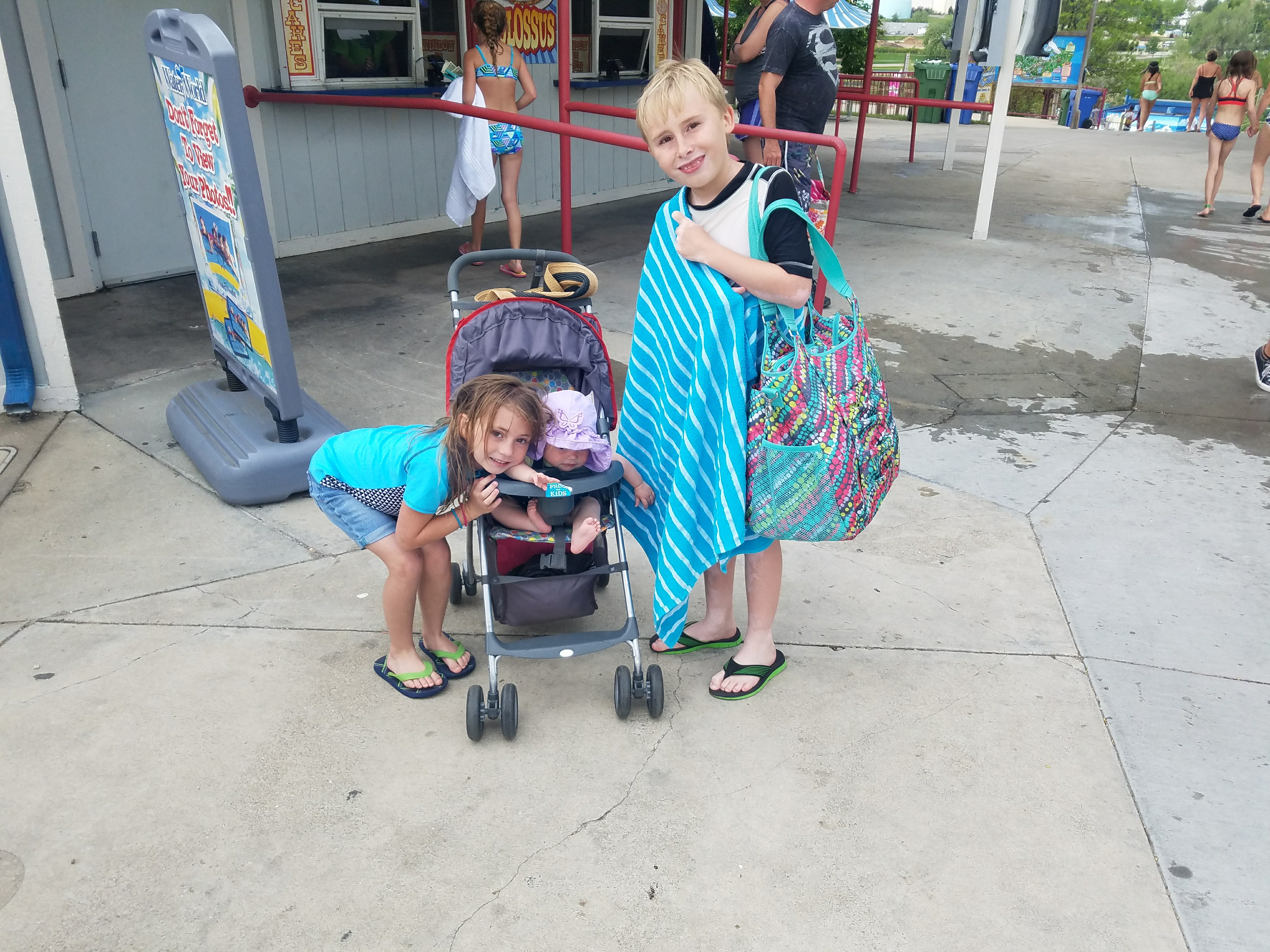 Summer isn't Summer without a visit to a water park.
Enter to Win a Family 4 Pack to Water World!

Well I haven't been to Water World since I was a kid! My memory was of flying down the "wiggly slide" as I called it, arms in the air, screaming for my life! I was having a blast. Man, has it changed.
New slides new layout, better food the whole nine yards as they say. I also remember that you had to wait in line for a bit. Well, with the population it's a bit busier, and if you are like my kiddo its kind of rough to wait your turn. I have to say the payoff for waiting was totally worth it for her! She had a blast. She was doing the typical "How much longer" but when she got to the top of Toratoga run she was sold. Our favorites were Voyage to the Center of the Earth, Zoomerang, Tiger Tail, Thunder River, Thunder Bay Wave Pool, and The Storm. We spent all day 10 am to 6pm. We went during the week and I would highly suggest it if you can possibly swing it.
The park has something for everyone. Rides, Food, and places just to rest. It's an exciting way to spend a hot summer day.
Here's the facts:
Tips for a great time:
Arrive Early: You get better parking, fewer people in line and you have more time to hit all the rides you want to .
Bring plenty of food and drink: You are allowed to bring a cooler of food and beverage in the park. If you bring food and drink you can splurge on a treat (or save your money).
Buy your tickets online: This saves time in line AND it can save money too as the tickets online are usually cheaper.
Take advantage of promotions:
Right now through August 2nd there is a promotion for BOGO tickets Monday through Thursday between 1:45pm and 6 pm.
King Soopers has individual tickets for $5 off or a Family 4 pack that includes lunch before you go.
Subway offers a coupon for $8 off of regular tickets
Mountain Dew cans have a specially marked can offering $8 off too.
View these and keep and eye out for more promotions on Water World Promotions Page.
If you want to ride the popular rides to it first!
The lines form early and get longer not shorter throughout the day.
Rides for families and large groups will have longer lines and seem to take longer. Rides like Mile High lyer, Voyage to the Center of the Earth, The Storm, and Caribbean Family Adventure are the most crowded.
Take advantage of the Single rider line:
Not all of the rides offer this but when they have a line for "single rider" these are significantly shorter than the regular line.
Plan out your day: Create a strategy for the day.
What do you want to do first? Plan what time of day to go and what part of the park you want to start at. This makes it an easy start to the visit so that everyone isn't pulled in different directions and you have a game plan in place.
What rides do you want to ride? Determine where the rides are so that you are not running back and forth around the park all day and you make the most of your time there.
When do you want to eat? Plan when you want lunch and consider having it at a different time from the usual busy time (11:30 – 1:30 apx). You will enjoy shorter lines at the rides and with the vendors.
Extra tip! Seriously consider the Tube Valet. It's TOTALLY worth it.
It costs a bit more than we wanted to pay BUT, the perks are that you get VIP access to several of the rides and you don't have to carry the tubes around the whole park. Especially worth it if you are carrying the family/group tubes for rides like the Voyage to the Center of the Earth or The Storm.
Here's the Basics:
DIRECTIONS
*Located just 15 minutes north of Downtown Denver @ 88th Avenue and Pecos St.
*Highway signage on I-25 and U.S. 36 will help guide you to our park. We offer plenty of free parking and are served by RTD.
·From the North, take I-25, exit at Thornton Parkway (exit 220.) Turn west on Thornton Parkway and continue to Pecos Street. Turn left on Pecos Street to 88th Avenue. At 88th Avenue, turn right into our parking lot.
·From the South, take I-25, exit at 84th Avenue (exit 219.) Turn west on 84th Avenue and continue to Pecos Street. Turn right on Pecos Street to 88th Avenue. At 88th Avenue, turn left into our parking lot.
·From U.S. 36 or I-76, exit at Pecos Street. Proceed north on Pecos Street to 88th Avenue. Turn left into our parking lot
CONTACT INFORMATION
(303) 427-7873
HOURS
Open 7 days a week 10 am - 6 pm
(Some Dates and Times May Vary | Check Calendar for More Info)
TICKET PRICES & INFORMATION
Tots (Heights Under 40"): FREE!
Child (Heights 40" to 47"):
$36.99 + tax (All Day | 10 am - 6 pm)
$23.99 + tax (Mid Day | 1:45 pm - 6 pm)
General Admission (Heights 48" & Above):
$41.99 + tax (All Day)
$26.99 + tax (Mid Day)
Seniors (Ages 60 & Up):
$10.99 + tax ( All Day)
$10.99 + tax (Mid Day)
UPGRADES
Locker Rentals:
·Unlimited, All Day Rental (Standard $8 + tax | Large $10 + tax | Jumbo $12 + tax)
·Pay As You Go Lockers (Standard $1 per token/one token required each time the locker is locked)
Tube Valet:
·$69.95 per band (4 guests per band)
·*Tube Valet offers express entry and reduced tube carrying! Please remember that the guest wearing the Tube Valet Band must always both pickup and ride in the tube.
Tube Valet upgrade here
Cabanas:
·$169 - $249 + municipal fee (up to 8-15 guests)
·*Several Locations Available
Cabana rental here
Bungalows:
·$49 + tax for all-day rental! (Max. 2 Guests)
Bungalow upgrade here
Personal Tube Rental:
·$5 per guest
·*Tubes are provided on all attractions which require them as part of park admission. Personal Tube Rental allows you to have your own single-guest personal tube for use on certain attractions
Tube Rental here
Premier Parking
·$10 per vehicle
·*Premier Parking offers parking spaces located conveniently near the front gates and an easy walk to your car at the end of the day!
Parking upgrade here
Pharaoh's Feast:
·Tots (Under 40") FREE when accompanied by a paying adult (one child per paying adult).
·Child (40-47") $13.99 + tax
·Adult (48"+) $15.99 + tax
·*All You Care to Eat Dining
Pharaoich's Feast here
FAMILY FRIENDLY RIDES/ATTRACTIONS
·Double Dare
·Lost River of the Pharaohs
·Mile High Flyer
·The Revolution
·Voyage to the Center of the Earth
·Screamin' Mimi
·Caribbean Family Adventure
·The Storm
·Warp Speed
·Skyline Speed Slides
·Glacier Run (NEW!)
·Funhouse Express Gondola
·Clown Around Creek
·Prank Tank
·Lazy River
... And More!
FAQs
*Outside food and beverage is permitted
*All sized coolers are welcomed
More FAQ's here
For more general details and information click here
Click if You Are Ready To Enter?
You get 6 chances to win! Check out the entry form for how to take advantage of your 6 chances and to review the rules and guidelines of the contest.
RULES: This contest will run from Monday, July 16, 2018 through Thursday, July 26, 2018 at 11:59 PM. One winner will be selected from all eligible entries on Friday, June 27, 2018. Winners will be notified by email and phone and will have 24 hours to claim the prize. If the prize is not claimed within 24 hours, an alternate winner will be chosen. You MUST be a subscriber and 18 or older to enter. If you are not a subscriber and enter the contest, you will be automatically subscribed. See complete Official Sweepstakes Rules.