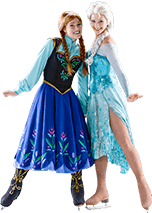 WE AT MACARONI KID WANT TO SEND OUR SINCEREST CONGRATULATIONS TO REBECCA AND ANNIE 
WHO WON THE 2 FAMILY 4 PACKS TO DISNEY ON ICE FROZEN THURSDAY MARCH 29TH AT 7PM. 
THANK YOU FOR ENTERING AND ENJOY THE SHOW.
Thank you to all who entered! 
If you would like to attend tickets are still available. 
Budweiser Events Center
5290 Arena Circle, Loveland CO 80538
Disney On Ice presents Frozen
Mickey Mouse and Minnie Mouse take the audience through the magical story based in Arendelle, with special appearances by beloved Disney princesses and favorite characters from Disney/Pixar's Toy Story and Finding Nemo and Disney's The Lion King, who come together to prove that true love is the greatest power of all.  Director Patty Vincent says, "Our goal is to showcase these heartwarming characters in a way that allows the audience to cheer and sing along throughout this emotional journey."
The complete adventure of the Academy Award® winning tale will be told live for the first time in this production, capturing the dynamic of two royal sisters, Anna and Elsa.  Anna, a girl with an extraordinary heart, embarks on an epic journey to find her sister, the magical Elsa, who is determined to remain secluded as she finally feels free to test the limits of her powers. Rugged mountain man Kristoff, his loyal reindeer Sven, the lovable and hilarious snowman Olaf and the mystical trolls help Anna along the way in this story about love conquering fear.  Audiences will get to sing along with such musical masterpieces as "Let it Go," "Do You Want to Build a Snowman?" and "Fixer Upper."
To create a completely immersive experience for the audience, the set design will encompass the space from the ice surface up through the air, drawing everyone into the story and closer to the characters. Families will feel that they are trekking up to the North Mountains with Anna, Kristoff and Sven, and they will tangibly experience the storm inside Elsa.  Elsa's magic will be enhanced by state-of-the art special effects while her emotions will be conveyed through powerful skating. 
Feld Entertainment, Inc., the worldwide leader in producing live touring family entertainment, announces it will bring the Academy Award® winning and number one animated feature film of all time, Disney's Frozen, to life.  Disney On Ice presents Frozen visits Loveland from March 29th to April 1st at The Budweiser Event Center tickets go on sale today. 
Loveland 
Budweiser Event Center
Date and Time of Performance:
Thursday, Mar 29, 2018                                                          7:00PM
Friday, Mar 30, 2018                                                               7:00PM
Saturday, Mar 31, 2018                                                          11:00AM, 3:00PM, 7:00PM
Sunday, April 1, 2018                                                              1:00PM, 5:00PM
Tickets start at:                                                                       $20.00
To order tickets by phone:                                                    1-866-464-2626           
To order tickets online:                                                          disneyonice.com
Discount Code for Macaroni Subscribers:                         $5     
CODE:                                                                                        Mackids
*Ticket pricing is subject to change based on market demand.